Nebula IT- Corporate Partner Extraordinaire
If you've been wondering how to foster great team spirit in your workplace, make yourself attractive to potential new recruits, and help your favourite charities too, then you need look no further for inspiration than Nebula IT.
Under the enthusiastic leadership of Chris Pottrell, Managing Director, the 15-strong team have become seasoned fundraising champions who relish challenge and competition but above all, know how to have fun. We could not have been more delighted when Nebula, who were already providing Sight Research UK with professional IT support, chose us as their Charity of the Year for 2022.
"
Its hard to get us all in one room outside the office – and this is a good opportunity for team bonding away from the pub
Team Nebula, as we think of them, have been supporting great causes for several years, with the staff choosing their charity of the year together and Chris picking the fundraising challenges. Over time, they've raised the bar from swear jars and half marathons to eye-watering feats of stamina. As Chris told us proudly:

"We generally go hard or go home"
Charity of the Year: a fabulous fundraising journey
Having selected their Charity of the Year, the team completes one fundraising challenge per quarter, easing themselves in with a "relatively gentle one". Their first challenge for Sight Research UK was the Tech Race, in which teams deconstructed and rebuilt a computer in a race against the clock. Having vowed to "RAM the competition", victors Mark and Cameron completed the challenge in 10 minutes 17 seconds. A jaw-dropping result.
Next came the 10k Steps Challenge, with everyone at Nebula pledging to rack up 10,000 steps every single day for the whole of June. Quite apart from the physical undertaking, the practicalities of this challenge proved tricky at times. On one occasion, Chris, undeterred by COVID and his temporary confinement in a hotel, tramped round and round his room in a desperate attempt to reach his step goal - until his wife begged him to stop.
Of course, Nebula being Nebula, the team had armed themselves with fit bands and set up a spreadsheet to track people's progress, allowing any slackers to catch up on steps owing from previous days. This meant a tough end of the month for some team members – and their dogs - who were reluctant to comply with the new exercise regime.
Thankfully, the summer heatwave had passed by the time our team embarked on their Tough Mudder challenge: a fearsome 15k course with 30 obstacles and gallons of mud thrown in. Dressed for the occasion like the superheroes they are, team Nebula endured sunburn, bruises, and even electric shocks-all in the name of sight-saving research.
"
"you just got to commit…you know it's going to suck"
As if all this punishment wasn't enough, Nebula's final challenge proved to be the most arduous of all. At the beginning of December, the company's busiest time of year, the team set out to cycle the 1,913 km from Land's End to John o' Groats – all from the "comfort" of their office. Everyone put in their daily stint, and for Chris it was torture.
"
I never want to hear the phrase "break in the saddle" again. I can't even look at that thing now.
Wrapping the saddle in plastic packing peanuts lessened the torment slightly, but the team's jubilation knew no bounds when they crossed the finish line, smashing their fundraising target of £1,000 by raising a whopping £2,484 raised for sight-saving research.
Click below to see the team celebrate their triumphant finish….on Nebula's 10th anniversary!
Everyone's a winner with Charity of the Year
While we were overjoyed with the fruits of Nebula's endeavours, we really hoped the team had got more from their Charity of the Year experience than an impressive collection of bruises and a sense of shared trauma. But Chris picks his challenges with care to make sure that there's something for everyone to enjoy. Jason's favourite was the Tech Race, although wild horses may be needed before he'll take part in another Tough Mudder. Chris prefers a day of muddy mayhem to month-long marathon bike rides, while other colleagues welcomed the opportunity to take a daily walk in June – even if their dogs didn't.

As well as benefiting several local charities over the years, Nebula's exploits have also helped to build a sense of camaraderie, and have proved to be a great way of integrating new team members. As Chris observed
"
It's a bit of an equaliser, seeing everyone in short shorts and capes
What more can we say to that?
Except of course a HUGE thank you to Team Nebula for being sight-saving superheroes.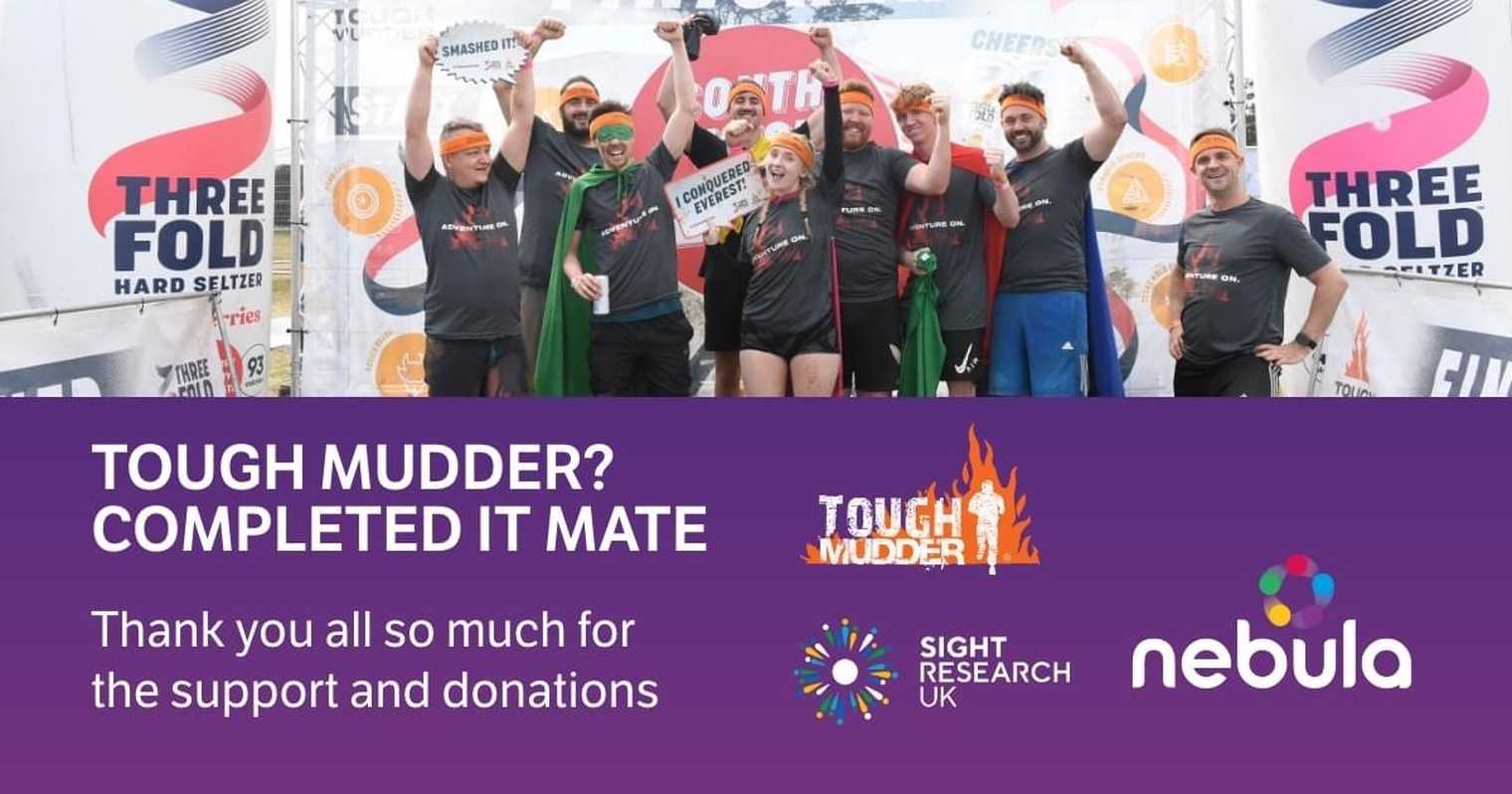 Team Nebula at the end of Tough Mudder
If you'd like to choose Sight Research UK as your charity of the year, we would love to hear from you, please do get in touch on hello@sighresearchuk.org.